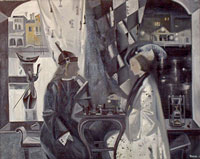 T. Tschikowa,
Schach, 2003, Öl/ Leinwand, 80x100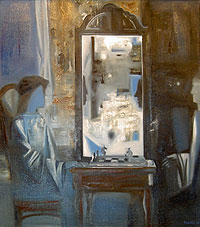 T. Tschikowa,
Spiel, 2003, Öl auf Leinwand, 90x80



Back to top

She was born in 1977 in Saint Petersburg.

1991-1996 she visited Art School named after B. Johansson, Saint Petersburg.
1996-2002 she studied at the I. Repin Institute for Painting, Sculptor art and Architecture (Academy of Fine Arts, Saint Petersburg), class of the painting leaded by Professor A. Mylnikow.

Since 1999 she participated in the restoration of the painting in the Christ the Saviour Cathedral Moscow, she took part in cultural event devoted to Saint Petersburg in Denmark, in international student festival in Finland, in "Youth art" exhibition in Moscow, Grand Prix.

Since 2003 she is a member of the Union of Artists of Russia. She lives in St. Petersburg and works at the Academy of Fine Arts, Saint Petersburg.