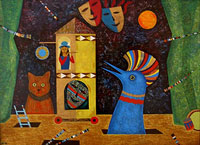 Wiktor Permjakow. Theatervorstellung, 1994
Öl auf Karton 73x100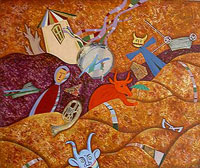 Wiktor Permjakow. Theaterraum, 1992 Öl auf Karton 50x60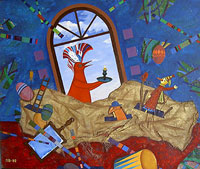 Wiktor Permjakow. Puppentheater, 1992 Öl auf Karton 50x60



Back to top
Viktor Permjakow was born in 1947 in Yekaterinburg, Russia. In 1976 he graduated from the Academy of Fine Arts in Saint Petersburg. Since 1982 Viktor Permjakow is a member of the Union of Artists, Russia. Since 1974 he participated in numerous Non-Conformists art exhibitions in Russia. His works of art were presented in Belgium, Cuba, France, Bulgaria, Canada, Italy, Poland and Germany.

His works are in the collections of:
State Russian Museum Saint Petersburg
State Museum of History of Saint Petersburg
State Museum of Urban Sculpture Saint Petersburg
A.S. Pushkin Museum Saint Petersburg
Dostoyevsky Memorial Museum Saint Petersburg
Ministry of Culture Russia
Russian National Library
Del Bello Gallery Toronto Canada
The House of Humour and Satire Gabrovo Bulgaria
Moravia National Gallery Brno, Czechia
Museum D'Annunzio, Pescara Italy
The International Exlibris Centre of Sint-Niklaas, Belgium
and in private collections in France, USA, Belgium, Japan, Cuba, Bulgaria, Holland, Poland, Germany, Italy, Canada, Finland, Sweden, Israel, England.