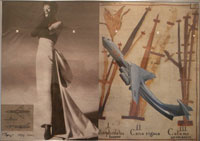 Marina Gertsovskaja. Herbarium, 1996
Silk screen print on canvas, 100x70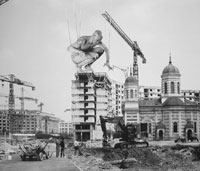 Marina Gertsovskaja. Golem I, 2005
Digital photo collage, black-white print on paper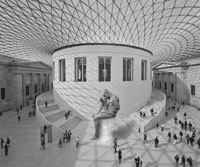 Marina Gertsovskaja. Golem II, 2005
Digital photo collage, black-white print on paper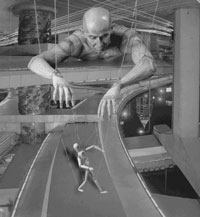 Marina Gertsovskaja. Golem III, 2005
Digital photo collage, black-white print on paper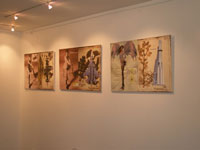 Ausstellung "Absolute Zeit", Berlin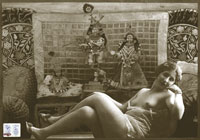 Ausstellung "Absolute Zeit", Berlin




Back to top

Marina Gertsovskaja was born in St. Petersburg in 1953.

She attended the Leningrad All-Union Art & Industry High School named after V. I. Mukhina from 1969 to 1974.
Since 1974 Marina Gertzovskaja was a Member of the State Moscow United Committee of Graphic Artists and participated in the most important exhibitions of unofficial artists.
Since 1990 she was a member of the Union of Artists in Russia.
Since 2002 she lived and worked in Berlin, Germany.
Since 2004 she was a member of the Union of Artists' (BBK), Germany

She worked with photography, video, performances and installations.
Marina Gertsovskaja created such series of art works as "Golem", "Women – Airplanes" or "Herbarium", "Puschkin-200", "Travel", "Conversation", "New Achievements at the VDNKh".

Since 1976 she took part in various international projects and exhibitions, including the exhibitions in the State Tretyakov Gallery Moscow, in the Center of Modern art Moscow, Pushkin Museum of Fine Arts Moscow, the Museum of Modern Art Stockholm, Sweden, Kolodzei Art Foundation New York, USA, in the Berlin House of Representatives (Blumen aus Niemandsland), Staatliche Kunsthalle, Baden-Baden (Russische Kunst Heute / 2004), Bishkek Art Center, Kirgisien (Ausstellung in progress / 2008), in the Russian Museum St. Petersburg (Power of Water / 2008).

The works of Marina Gertsovskaja are in the collections of:
The Pushkin State Museum of Fine Arts, Moscow
The Russian Culture Fund
The Russian Museum, St. Petersburg
Kaliningrad State Art Gallery
Novosibirsk State Art Museum
Dresdner Bank AG
BaltVneshTorgBank, Moscow
Bank Atlant, Baku
Koman Fine Art, USA
Gallery Velta, Moscow
Galérie Basmadjian, Paris
Galérie Bernard Felli, Paris
Kolodzei Art Foundation, Inc., New York USA
Museum of Modern Art (Moderna Museet) Stockholm, Sweden
Galerie J&L Fortak, Berlin

Marina Gertsovskaja died in Berlin in 2009.