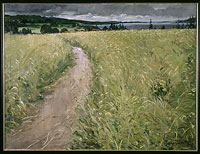 R.Adgamow. Weizenfeld, 1990 Öl auf Leinwand 70x93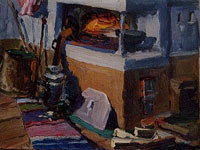 R.Adgamow. Russischer Backofen, 1994
Öl auf Leinwand 40x51.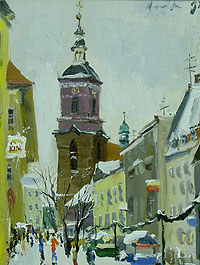 R.Adgamow. Altstadt Spandau, 1993
Öl auf Leinwand 40x31



Back to top
Spent his childhood and youth in Perm, Ural Region, where he has done his first step in art under the influence of Siberian nature.
1960-1966 Children's Art School in Perm
1967-1971 Art College in Perm
1975-1982 High Art College, the Academy of Applied Arts, Saint Petersburg named after V. Mukhina. Studio of Prof. Rotnizkij and Bogdanov
1995 member of Union of Artists St. Petersburg


His works have been exhibited since 1982. His art was presented in Munich in 1996, in Hamburg in Galerie Hotel Elysee in 1996, in Rudolf Mangisch Galerie in Zurich in 1997, in Peter Karbstein Exhibition Hall in Düsseldorf in 1995, in Millon & Robert Gallery in Paris in 1995-1996, in Geneva Central Exhibition Hall in 1998.

Numerous of paintings were bought for private collections and galleries.