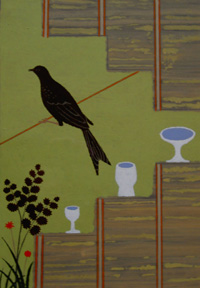 The Rubaiyat of Omar Khayyam
"Wine from Bukhara".
originals of illustrations,
Rashid Dominov, St. Petersburg


"Wine from Bukhara", 2004
State University St. Petersburg

On behalf of our Gallery we have honour to invite you for the exhibition of the original illustrations of Raschid Dominov to the book "Wine from Bukhara" of Omar Khayyam, published in St. Petersburg, Russia by State St. Petersburg University 2004.

This book is devoted to the astronomer and poet of Persian Omar Khayyam and includes the poems rubaiyat of Omar Khayyam, the "tsar of sages" of XI - XII century, who is famous all over in the world.

The attraction and treasure of this book is in combination of professional translation of Omar Khayyam's poems, done by Khan Manuvakhov, St. Petersburg's poet, the addition of Asim Shakhverdov, editor, who collected and compiled the most complete translations of poems into Russian, which were published first in 1986 in Leningrad in Big series of Library of poet, and illustrations of Raschid Dominow, famous Russian painter, graphic, scene painter.
Book illustration is fortunate exception in his creative work. The paintings of R. Dominov are so close to the poems of Omar Khayyam by interpretation of subject.

This creation is not simply illustration; it is individual interpretation of poems, which the painter has read not once, trying to understand the period of history and the sole of poet.

The illustrations have brought us in XII century, opening for us so famous pages of history of Persian book miniature.

We hope very much that this book with complete originals of R. Dominov will find place in your collection.