Exhibition "Colors of Life"

Sergey Inkatov, Tallinn

03.11.2010-28.11.2010


Sergej Inkatov was born in 1971 in Baku. He spend his childhood and teenage years in Azerbaijan where he gained his first experiences in arts. He studied at the Art School which is named after Azim Aslan Ogly Azimzade. His first teacher Enver Aliyev was a well-known artist who graduated from the Academy of Arts in St. Petersburg and later dedicated his life to teach at the Art School in Azerbaijan. Sergej Inkatov grew up in a family of German-Armenian origin where respect for tradition and national culture was highly emphasized. Naturally, Sergej Inkatov could have considered Baku to be his home town but unfortunate conditions made him and his family leave their home country.

After their relocation, he continued his studies at the Art School Twer Oblast, named after Gawrilowitsch Wenezianow; M.M.Marshow was teaching who was a master in glass art design and a well-known Russian artist.

S. Inkatov combines elements of expressionism and realism in great harmony. A profound world view is reflected in his bravura brushworks. On his canvas, the artist manages to form a unity of a line and an area which yet, has a segregating character.

He has a sensible feeling for colors and light that reminds the viewer of a fine mosaic. Hidden behind a decorative beauty one can see that he has a deep understanding of the modern world and its dynamics.

Since 1994, S.Inkatov has settled down in Estonia which became his second home country. With passion and love, the artist brings the beauty of the Old Town architecture very close to the viewer.

The name of the young artist became well known nationally and internationally. Since 1998 S.inkatov has taken part in more than 40 exhibitions outside Estonia. His works are well-known, not only in Estonia but also in The Czech Republic, Latvia, Lithuania, the UK, Spain, Russia and the United States. His works can be found in the collection of Tallinn's town hall, in the art foundation 'Newski-Prospect Gallery', in the history museum in Narva as well as in private collections in and outside Estonia.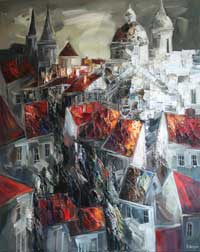 "Meine Stadt", 2009
Öl auf Leinwand, 100x80 cm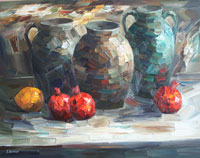 "Still-Life with Jugs", 2010
Öl auf Leinwand, 113x92 cm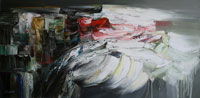 "Dream", 2009
Öl auf Leinwand, 50x100 cm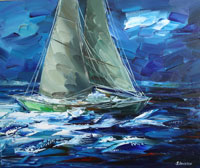 "Sea Wind", 2010
Öl auf Leinwand, 54x65 cm